Mary's Hide & Sleep provides Small Space Sleeping Solutions
Hours: Mon.-Sat., 10:00am to 5:00pm, Closed Sun.
Address: 4100 Redwood Hwy., San Rafael CA 94903
JAPANESE PLATFORM BEDS
These beautiful Japanese platform beds, also known as Tatami Beds, come in a variety of sizes and finishes to compliment your living space. We also carry accessories like Japanese Lights, mats, pillows, and Shoji screens to create the sleeping experience you have in mind.
Traditional Tatami Platform Beds
Available with either short (9″) or tall (15″) legs, in Natural, Honey Oak and Dark Walnut.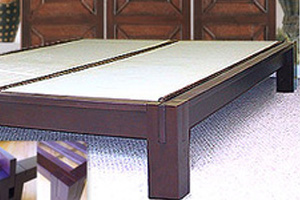 Dark Walnut with Tall Legs
Use slats only
or with slats and mats.
Platform Beds Sizes and Prices
Twin: $499
81″L x 44″W x 9″/15″H
Twin XL: $539
86″L x 44″W x x 9″/15″H
Full: $629
81″L x 60″W x 9″/15″H
Queen: $659
86″L x 66″W x 9″/15″H
Eastern King: $739
86″L x 82″W x 9″/15″H
Cal King $739
90″L x 76″W 15″H
Tatami Mats (Black Edge):
Twin: $229
75″L x 38″W x 2″H
Half Full: $189
75″L x 27″W x 2″H
Half Queen: $209
80″L x 30″W x 2″H
Half King/Twin XL: $249
80″L x 38″W x 2″H
Solid Wood Furniture Built To Last